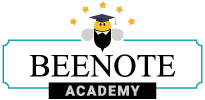 What is the Beespace? It is your personal dashboard to manage your meetings. It also contains a list of your personal and assigned tasks, but most importantly, your upcoming meetings. 3 views are available: Today, Today and tomorrow or the next 7 days.
Each meeting is presented as follows:

(1) The title, the time of the beginning of the meeting and the duration. Click on the title to access your meeting.
(2) A quick view of all participants, a folder (project) which belongs to the meeting and the name of the team.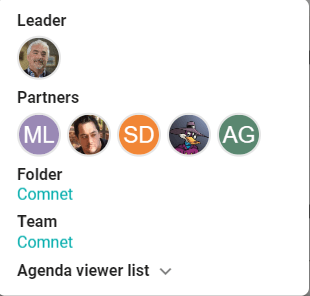 (3) The number of people connected to the meeting, in real time. Click on the

 icon allows for displaying the list of people connected to the meeting:
(4) An icon to access your meeting.
(5) View agenda of the meeting
(6) More options: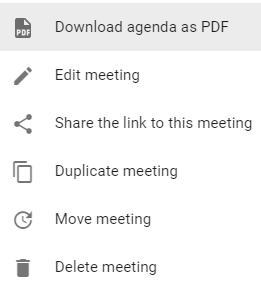 Download agenda as PDF: Be well prepared before the meeting: print the agenda if desired and share it with your teammates.
Edit meeting: If you have the rights, edit the meeting.
Duplicate meeting: Useful when you have recurring items at each meeting. Also, allows you to track tasks assigned at the previous meeting.
Move meeting: Change the date and time of the scheduled meeting.
Delete meeting: Permanently delete the meeting.
Blog that may be of interest to you : Successful Meetings Start with Why
We are sorry that this post was not useful for you!
Let us improve this post!
Tell us how we can improve this post?