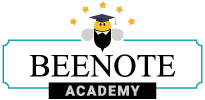 Difference between Beenote and Beeboard
What is the difference between Beenote and Beeboard? Each plan has different features for different needs. Beenote is mainly for Boards, Executive Committees and Board of Directors. Meanwhile, Beenote is designed for work teams of all sizes. Read on to learn more about the difference between Beenote and Beeboard!
You will find in this article:

What is Beenote?
Beenote is a full-featured, all-inclusive plan that provides you with essential features for work teams of any size! You will be able to organize, hold and follow up on meetings needed in the management and execution of projects.
Meetings are collaborative work. Before the meeting, writing the agenda can be everyone's job. Each registered topic has an assigned leader who must complete the topic in question. Writing the details, attaching files, adding links allows everyone to be prepared for the meeting.
During the meeting, all partners are able to write global notes that facilitate the writing of the subsequent minutes. The meeting recording feature will assist you in this task.
As the minutes is completed and published, the responsible parties only need to review them and record the missing elements. And that's it!

Beenote's Features
1.Personal Notes
Directly in Beenote, you can take personal notes. Don't lose track of the important points.
2.Voting on the Decision
Is there a decision to be taken? You can propose and support a decision directly in the subject under discussion.
3.Custom Agenda Template
Do you have recurring meetings? Speed up the agenda writing process by using agenda templates you have created.
4.Access Logging
Consult the list of members who have consulted the documents of the board or committee.
5.All-in-one Meeting Management Tool
Agendas, minutes, documents and tasks: all in one tool!
6.Integration with your Calendar
Forget back and forth emails to determine a meeting time with the integration to your Microsoft 365 or Google Calendar.

What is Beeboard?
Beeboard is a Beenote solution specifically designed for boards of directors, executive committees and management committees that securely isolate different teams, meetings, documents and decisions for complete confidentiality.
This solution will allow you to perform collaborative governance of your meetings. This will allow you to better understand and improve the efficiency of all your corporate meetings. Indeed, Beeboard plays a central role in supporting information sharing, decisions to make and risk management.
Beeboard's Main Features
All Beeteam features are available. Nevertheless, Beeboard offers you exclusive features!
1.Agenda approval process: quorum
Always have access to the most recent version of your agenda with the approval of all members.
2.Private Minutes
The minutes of a meeting may be kept private to the participants of that meeting or to the Beeboard team.
3.Decisions Register
You can quickly and efficiently follow up on every decision you make.
4.Topics Register
A register of topics is at your disposal. You don't have enough time in the meeting to discuss all the topics? Move them to the topics register. They will be available for the next meeting.
5.Tasks Register
Create, assign and prioritize tasks. You can even track the tasks of all board or committee members.
6.Approval of Minutes
Approve the minutes of the previous meeting directly at the next meeting.
7.Advanced Search
Search by keywords across folders, teams, notes, tasks and meetings.
Confidentiality and Security
Your private data is really private. Indeed, with Beeboard you will have access to a private library. In addition, your Beeboard team will have the status of a private team. And your sensitive data will be private and safe. At Beenote, we understand the importance of keeping data private, private.
Learn more about Beenote's Privacy Policy>
Beenote ensures compliance with the following safety standards*:

*The certifications are in compliance and have been awarded by the appropriate authorities to the holders.
For a detailed look at the Beeboard and Beeteam differences, see Beenote plans and their features>
We are sorry that this post was not useful for you!
Let us improve this post!
Tell us how we can improve this post?