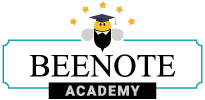 What you will find in this article:
1.To access the account settings, go to the right of your screen when you are in your Beespace. To the right of the bubble displaying your initials, click on the small arrow to display the drop-down menu.
2.Click on Account Settings.

The account settings are divided into three sections: General, Integrations and Account.

In this section, you can change:
-your avatar (choose the photo of your choice to replace your initials in the bubble),
-the sound setup,
-automatic record,
-the display language (French or English),
-your gender (male, female or prefer not to answer),
-your full name,
-your title within your organization,
-your phone number,
-the address,
And your password.
It is in this section that you will be able to enable* or disable the possible integrations of Beenote with Google Calendar and Microsoft Outlook Calendar.
*In order to activate integration with Microsoft or Google calendars, you must first connect to Beenote with the Google or Microsoft buttons on the login page.
In this section, you can leave the organization* to which you belong in Beenote, but you can also add a new organization.
To learn more about creating another organization >
*If you belong to only one organization in Beenote and leave it, you will delete your Beenote account at the same time.
We are sorry that this post was not useful for you!
Let us improve this post!
Tell us how we can improve this post?