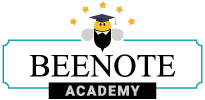 Start and hold a scheduled meeting
What you will find in this article:
To start and hold a scheduled meeting, you must first have created an agenda for a meeting. It will therefore be displayed in the My Meetings section of your Beespace.
1.Go to this section and click on the title of the meeting you want to start. You will then be directed to the agenda of the meeting.

2.In the options bar at the top of the page, press this

button to start the meeting.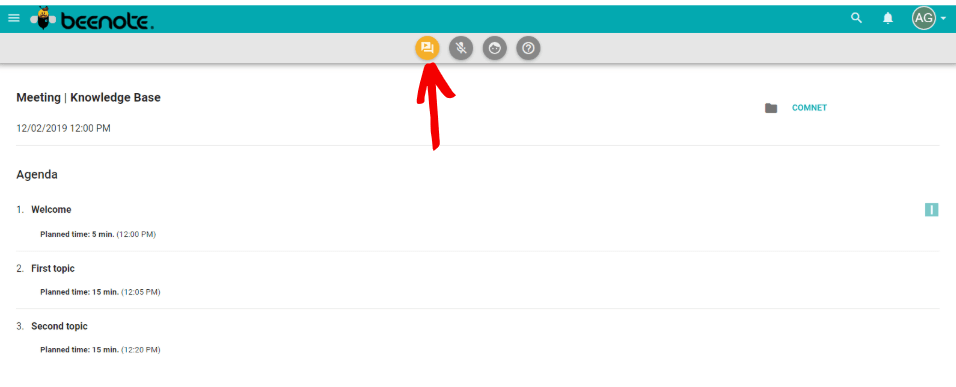 3.A small window will open to confirm your intention to start the meeting. Click on Start Meeting.

Your meeting has now begun. Now, what can you do to make your meeting a success?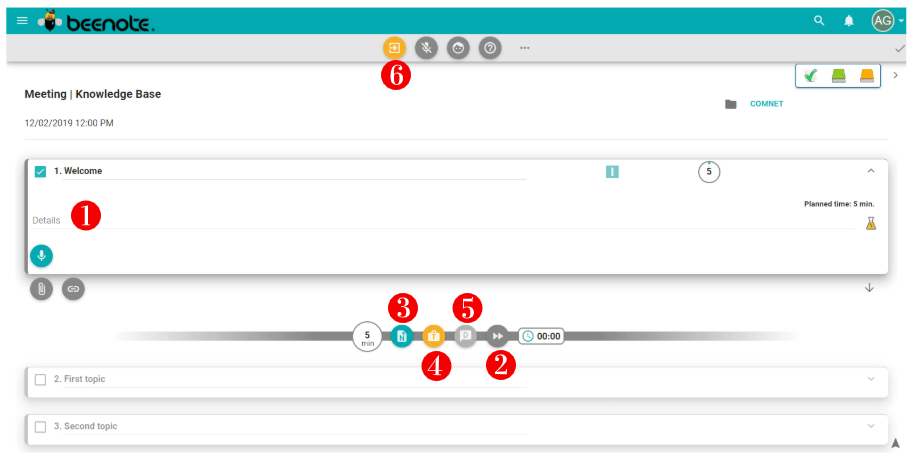 1.Enter details of the agenda items (1).
2.Once a subject is completed, press this icon to move on to the next one (2).
3.You can add a note to the item currently being discussed by clicking on this icon (3).
For more information on notes management >
4.This icon is used to assign a task (4).
5.By pressing this icon, you can document a decision (5).
6.Once all the items on the agenda have been discussed, you can close the meeting by clicking on this icon in the options bar at the top of the page (6).
7.Before closing the meeting, you can take the attendance of the people present. It is possible to check each of the people present individually or, if there are no person absent among the people who were invited to take part in the meeting, it is possible to check everyone with a single click.

Do you find that there are a lot of details and that it takes a long time to write them in the space provided? Beenote offers you a quick solution! You can record a voice message. All you have to do is give permission to the microphone.

You can attach files and links. No need to search for documents through email exchanges or shared files. Everything is easy to access in one place!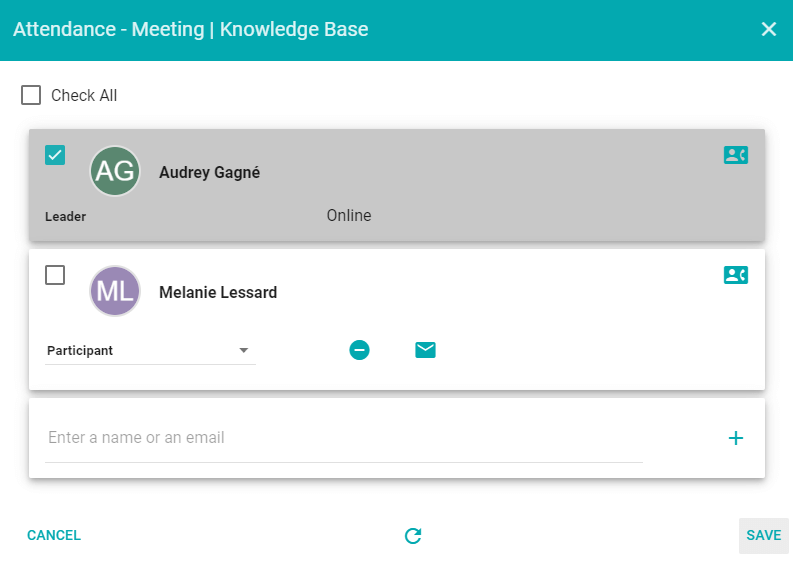 8.The last step is to confirm your willingness to close the meeting. You can close the meeting and immediately publish the minutes of the meeting or simply close the meeting and review the minutes at another time before publishing it. Click either Close and publish now or Close Meeting.

If you publish the minutes as soon as the meeting is over, it will appear in the Minutes section available from your Beespace.
However, if you do not publish it immediately, it will be waiting for you in the Unpublished section also available from your Beespace.
For more information on How to write an effective minutes of meeting? >
We are sorry that this post was not useful for you!
Let us improve this post!
Tell us how we can improve this post?