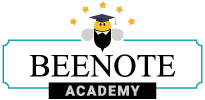 You have assigned tasks in a meeting and would like to follow up on them from one meeting to the next until they are completed?
It's possible with Beenote! It's ideal for recurring team meetings for a better follow-up from one meeting to another. The tasks discussed will not be forgotten
Assigning tasks in meeting
Tasks assigned during your meeting can be automatically included in the agenda of the next meeting to see how the meeting is progressing, for example.
(1) To do this, you must assign your tasks during your meeting and publish the minutes.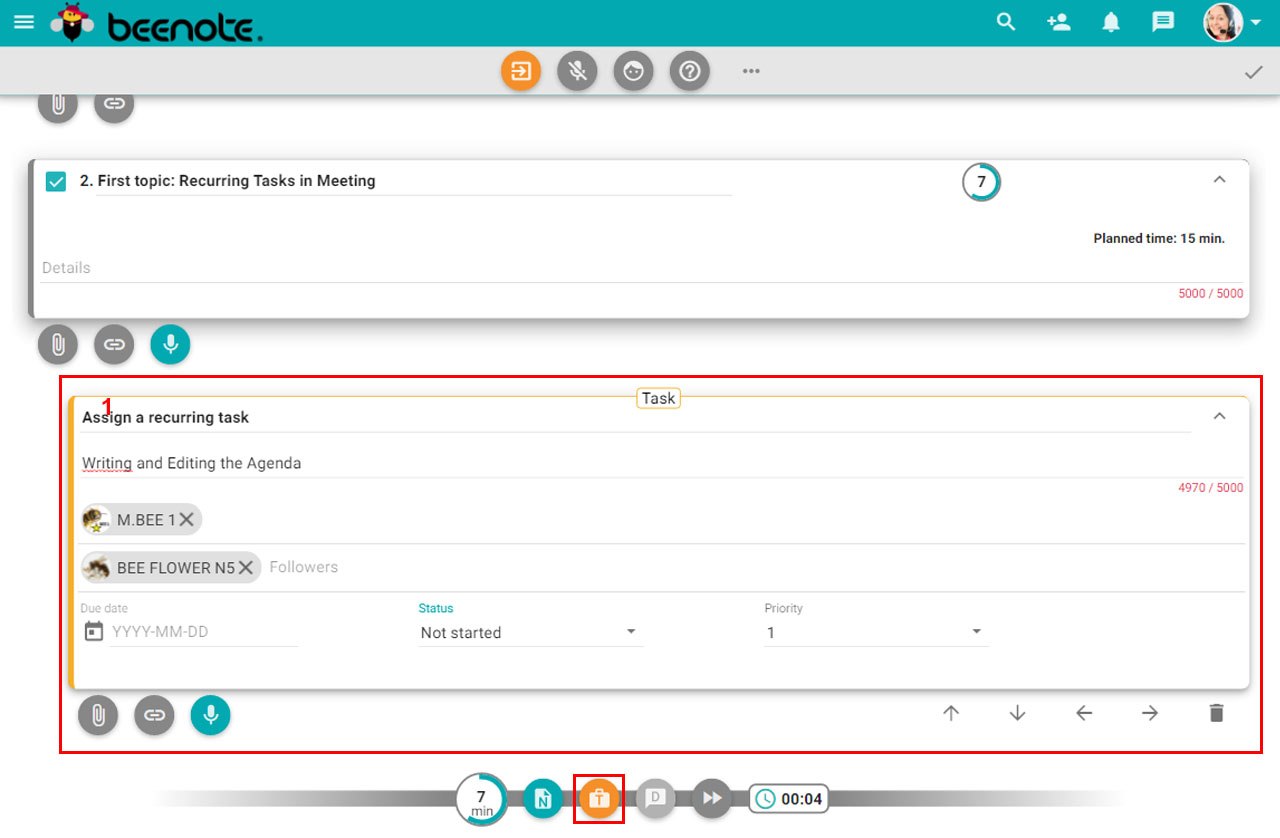 (2) Then, go to the Minutes Repertory.
(3) From the Minutes Repertory, find the minutes of the meeting in which you assigned the task.
(4) Click the three dots to the right to open the drop-down menu of options.
(5) Select Duplicate Meeting.*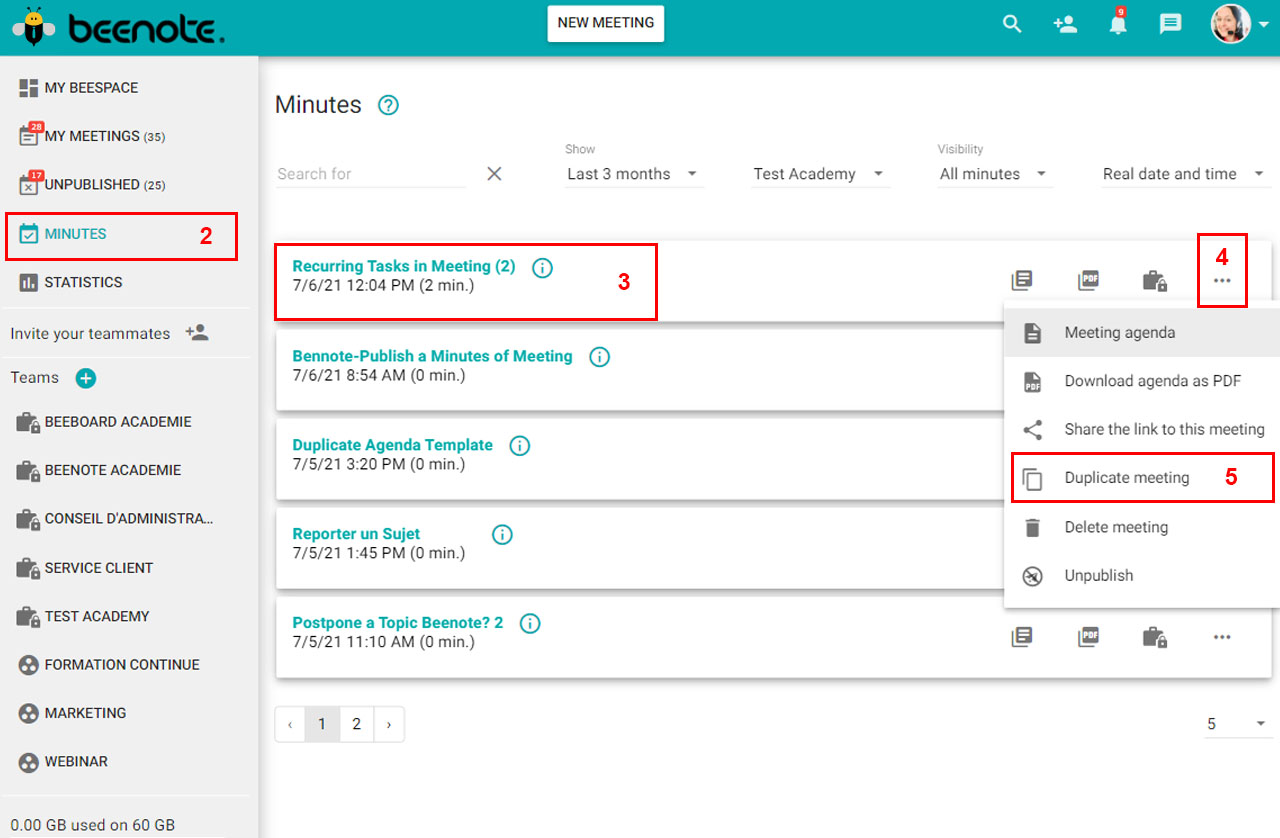 (6) Automatically, a new agenda will open. It will have the same structure, attendees, and roles as the one you duplicated.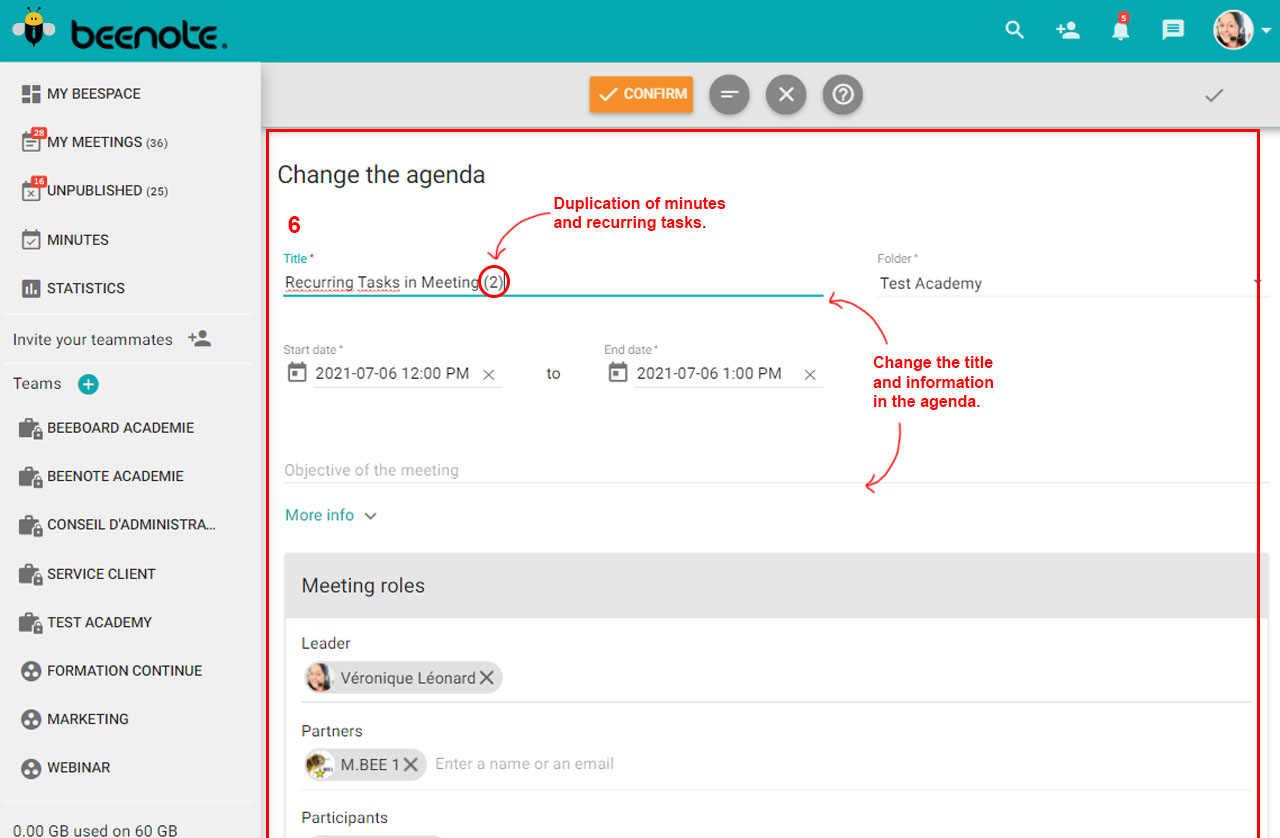 (7) You will notice that the first item on this agenda is Task Follow up.
It is in this section that you will automatically find the tasks that were previously assigned. You can therefore easily perform task follow-up. 
You can also change the order in which the tasks are discussed; you could decide to do the follow-up at the very end of your meeting.
(8) To complete your agenda, fill in all the necessary details in the sections provided.
That's it! Your agenda is ready and your follow up of assigned tasks is efficient.
*Please note that you will always need to duplicate the last minutes to keep track of tasks.
Follow-up of tasks during the next meeting
At the next meeting, when it's time to track tasks, you'll be able to easily see all the details about recurring tasks.
Here are the main features:
(1) Task name
(2) Informative notes
(3) Name of the person to whom it is assigned
(4) Name of observers
(5) Deadline for completion
(6) Status of the task
(7) Priority level will be displayed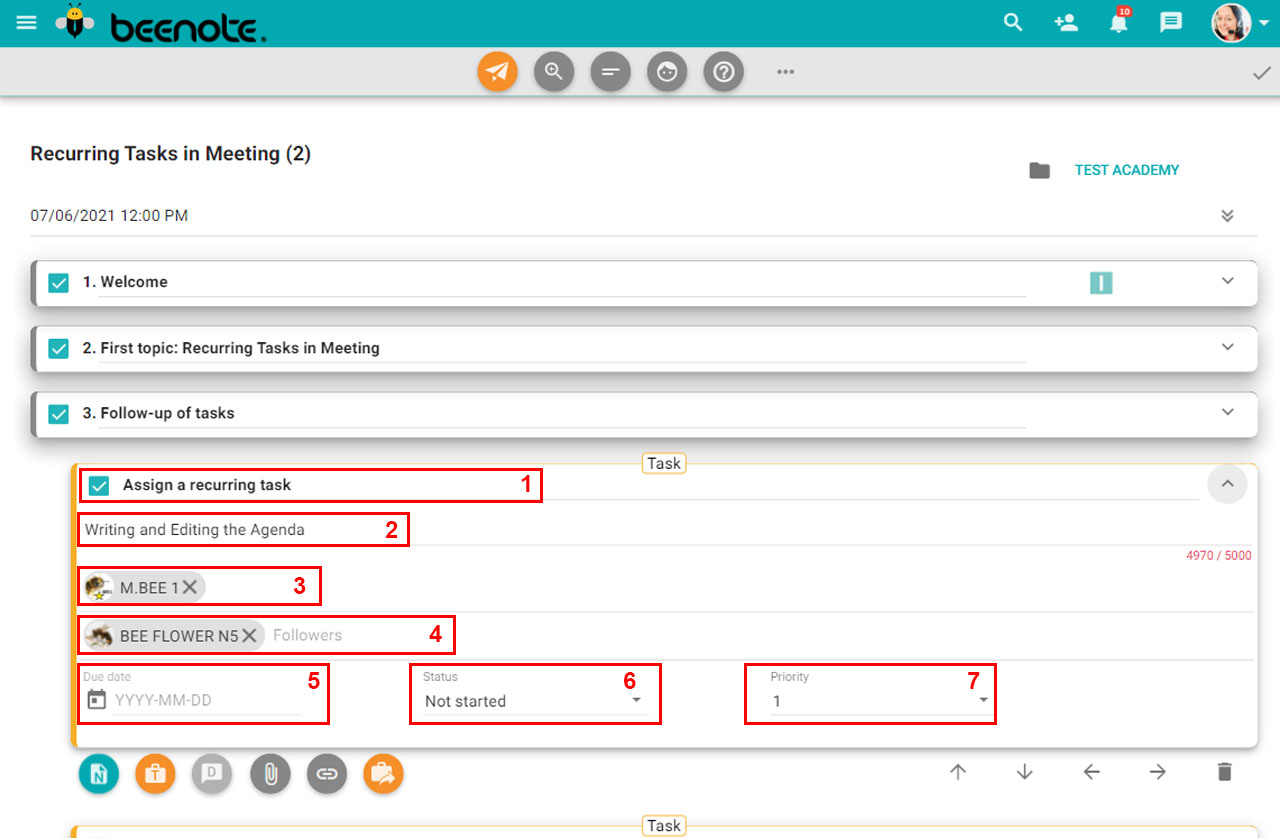 To be up to date on the progress of the tasks, each week duplicate the last minutes of your meeting.
Add tasks follow-up in a meeting that was created outside of the meeting
You assigned a task to a colleague at a different time than in a meeting. But you would like to discuss it at your next meeting? Here are the steps to get there:
(1) The task must be related to the same folder as the meeting.
(2) During your meeting, go to the top menu and click on the three points.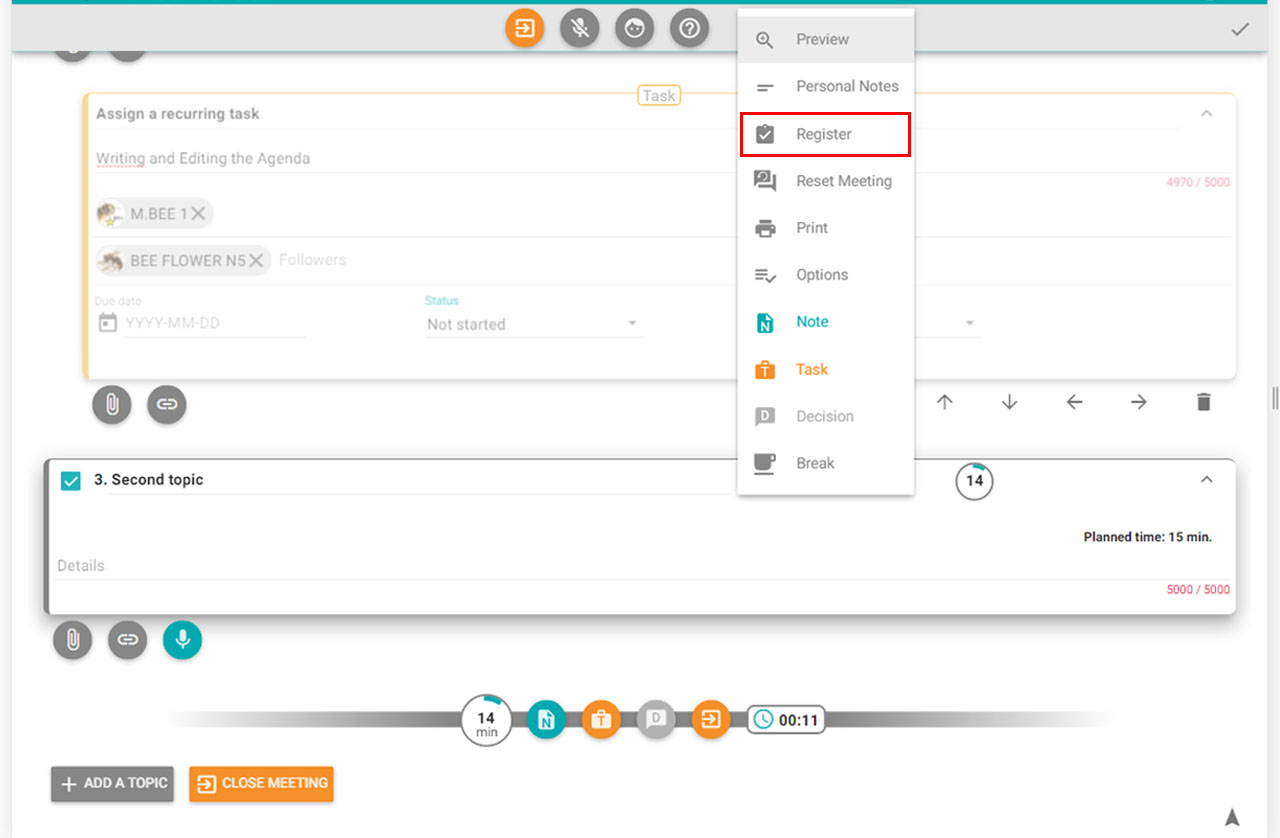 Then from the drop-down menu, choose Register.
The register window will appear.
(3) Finally, select the task to be added.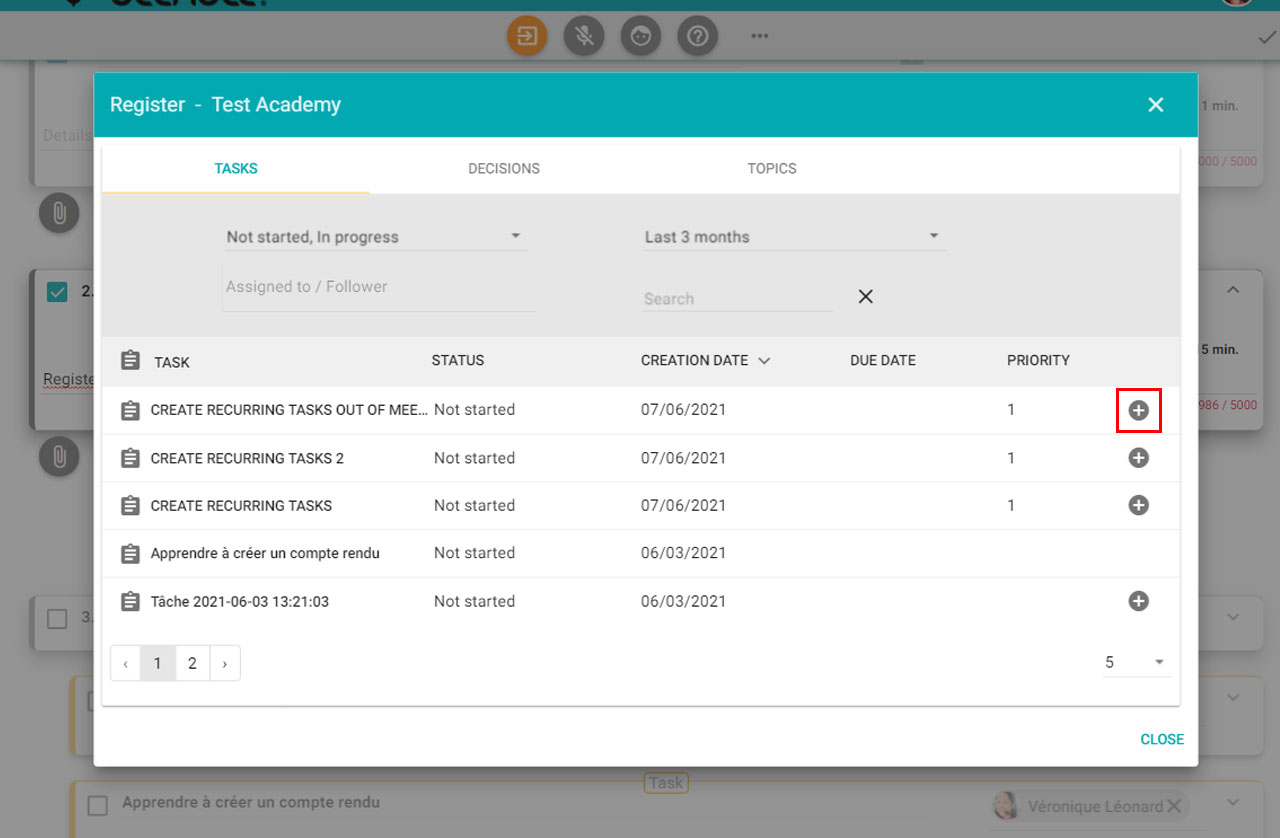 Now you will have a detailed follow-up of the tasks that were assigned in the meeting.
It's simple, efficient and, above all, fast!

   Next steps